Learn English
Top Ten for Education. Number 2 is for Blogs.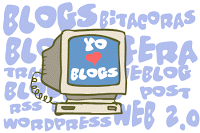 As Tiscar Lara says in
"Cuadernos de Comunicación e Innovación"
magazine, '
Weblogs have a great potential as a tool in the educational field since they can adapt to any discipline, educational level, or teaching method'.
Besides, what makes weblogs attractive for ESL/EFL educators is that students can take control of their learning process, express their ideas and interact with their teachers and other students in their same class or in English speaking countries. Therefore, students are exposed to real language what is really stimulating for them since they feel English is something real and not something they can only use in the English classroom.
But, what is a weblog or blog?
A blog is a free personal website where a person or a group of people usually write posts, include videos, personal opinions, slideshares, links, photos, gadgets, news, I mean, it is like a personal online diary. However, blogs were not created for education but they give teachers a great amount of possibilities to interact with the students, to motivate them with activities the teacher adds to the blog. Blogs have become a collaborative tool for information exchange and reflection on the topics studied in the classroom.
Nevertheless, a blog should not be just something for students to do when a teacher doesn´t know what to do in the classroom but a tool for achieving the persued learning goals. Effective teachers have to give simple and clear explanations if they want their students accomplish the activities in a successful way.
Teachers can use all kind of resources for the activities: videos, photographs, comics, website links for carrying out a researching task, etc. However, teachers have to organize, categorize and order resources to avoid "cognitive overflow". If we ask our students to search information for an specific topic on the net they can get lost since they can find a lot of information on the net but they cannot distinguish between high quality and low quality sources. A blog allows teachers to organize information through categories, structure information in an easy and quick way.
Advantages of using a blog with your ESL/EFL students
1. Teachers can interact with their students in the target language outside the classroom in an easy and fast way.
2. It is a way to give voice to your students to express their opinions, ideas and upload the work they have done in class, for example.
3. Students are actively involved in their learning process.
4. Teachers in non-English speaking countries, thanks to the net, can have access to real material for their classes and include it on the class blog.
5. Teachers can expand their classroom boundaries and their students can go on working wherever they want.
6. Students can get 'feedback' on their works from the teacher.
Ideas to use a blog outside the classroom
1. Divide your students in small groups (3-5 students per group) and ask them to create a blog for publishing the project they have been working on. Create a questionaire to know how your students have worked, if they have enjoyed the activity, what they have learnt, etc.
2. With adult students, you can organize and international classroom language exchange with other English teachers to know cultural similarities and differences with British, French, American or Portugues people, for example.
3. After a reading and discussion in class you can ask your students to create a new story using stripes, they can draw the story or use Toondoo for doing this task. After that, they have to publish them on the blog and other students have to decide which story is the best.
4. After introducing a reading about London city, you can tell your students they are going to London only for three days in July. They have to work in small groups. London is a very big city, therefore, they cannot visit all the interesting places there. They have to decide when are they going to visit London, what kind of clother are they going to take in their suitcases (you can include a link to a weather report website from U.K), what places are they going to visit (include a London guide website), where are they going to stay (bed&breakfasts, hotels, hostels, Inns, etc). They have to interact with the other students to take all these decisions. When they have finished the research, they have to publish a summary on the blog. With this activity they can review vocabulary (clothes, weather) and grammar (going to).
5. You can provide your students with a reading from the web uploading it to the blog and ask them to write a summary.
You can find more information in
More Blog Ideas
.
Disadvantages of using a blog with your students.
1. Not all students have internet access at home.
2. Not all students have a homogeneous NTIC knowledge.
If you are interested in this topic you should visit this
Web 2.0 in the Classroom Blog
entry called "Using Blogs to Promote Authentic Learning in the Classroom"and
"Blogging for ELT"
by Graham Stanley. They really worth!
Would you like to integrate blogs in your English classes?
You are always welcome to contribute with your ideas!!
Next: Top Ten for Education. Number 3 is for Voicethread.
-
It's Worth Keeping An Eye On That Blog
I have received this award from two different blogs "Mis clases" by Ana Concejero and "Anna's blog" by Anna Morales, both teachers of English I must say it has been an honour to be remembered by colleagues and bloggers when thinking about blogs which...
-
New School Year - Getting To Know You Activities For The First Day
September has arrived again! The summer is almost over in this part of the world and many teachers start their classes with new students. It is time to build new relationships, a relationship of confidence between our students and us, but between students...
-
Top Ten For Education. Number 1 Is For Wikis.
Today, surfing on the net I have found a very interesting article in the 'Transforming Education through Technology' journal, called Top Ten Web 2.0 Tools for Young Learners written by Chris Riedel. My aim with this post is not making a list...
-
30 Websites With Free Esl Teaching Resources
Yesterday, Karen Schweitzer, an experienced freelance writer and copyeditor who also writes for About.com and other education companies, sent me this article with very valuable information about Free ESL Teaching Resources.Every teacher needs a little...
-
Webquests
What is a webquest? The word webquest is really two words "web" and "quest" (search), that is, "searching on the net". It is a learning activity in which students have to learn to cooperate to solve different kinds of tasks. In this way they learn in...
Learn English